March 21st, 2011 at 12:54 pm
I was chatting with an old wheeling buddy recently about racing UTVs out west, and he mentioned that ECORS: http://www.ecors.com was starting a UTV class and it was close to home, so I decided I'd go check it out. Today was the first race of the season located at "The Flats" in Marion, NC, and we were excited to see how many UTVs would show up and race the same courses that the Class A & B trucks run. Needless to say, we didn't know what to expect of the turnout, let alone the course. We arrived a little before 8am, got through the check-in gate, grabbed our sexy yellow media vests, and parked the truck. We cruised over to the driver's meeting to see some old friends and catch up with Brit from Octane Media in his new RZR XP. Having only spent about 5 minutes of time in the new RZR XP, I wanted to see how it would fair against two highly modified RZR S's that were there too. But, before the race even began, I learned from Brit that while out pre-running the course the day before, he smacked a tree and broke his passenger side front a-arm. So, in to town yesterday afternoon him and his friends went to see if they could do some quick fab work to make it drivable. And, they did, but unfortunately after only a lap and a half, the only material they could put their hands on in town wasn't strong enough to hold up to the task. Here's a short video of all the action between the brand new RZR XP 900 and the two modified RZRs: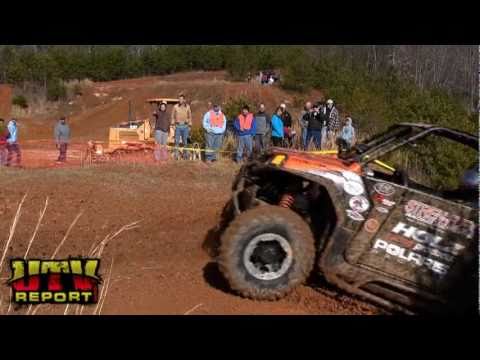 Here's a video of Brit's short-lived race out front the entire time, I might add: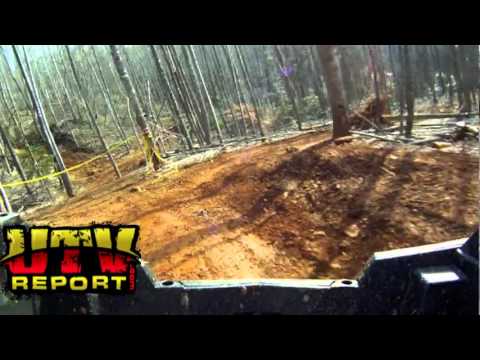 Once Brit was out, we continued filming Tim Wyatt and Jim in their RZR's. Unfortunately for Tim, he lost 4wd and popped a tire about 9-10 laps through the race, leaving only Jim left to race the 2 hour time limit. Jim successfully finished with no damage, but the same can't be said for Brit and Tim. After getting back down the hill, I went over to Tim's trailer and asked him if he had a bent tie rod or something broke in his front end, and he didn't think so. But, after looking at it further, he bent the front rear portion of the lower a-arm mount on the frame up and in, which is why you'll notice in a couple of the pictures his tires are pointing in way too much. Needless to say, he'll have a little bit of work cut out for him before the next Rally Raid race in Durhamtown, but we expect to see him there.
It's also important to note that thanks to Brit Mansell from Octane Media, Dragon Fire Racing is sponsoring this year's ECORS series with the following contingency program:
1st Place – $100 Gift Certificate
2nd Place – $50 Gift Certificate
3rd Place – $50 Gift Certificate for Hard Luck Award ($200 minimum purchase)
These awards will continue all season, so let's get some folks out and race!
Overall, the racing was a blast to watch, and I hope the turnout continues to increase over time. Jim ending up taking the win about 5 minutes under the 2-hour cutoff time completing 15 laps in the same amount of time some of the trucks only completed 10 laps. Please help spread the word, and we'll see you on April 30th in Auburn, AL at The Great American Park.
Written by Chris from UTVReport.com