November 2nd, 2010 at 4:35 pm
A new UTV from a company like BRP is something that get a lot of people excited. BRP is known for their high performance and quality products. Lots of rumors had been circulating since the president of BRP announced a few years back that they were working on a side x side, and everyone was chomping at the bit to know what they had up their sleeve.
I had my first taste of the Can-Am Commander at Little Sahara back in April, before it was introduced to the rest media. I felt very fortunate to be asked to provide input on the machine before the last stages of release. During that day in the dunes, I knew that Can-Am had not just built a rehashed Yamaha Rhino with a big engine. BRP really came up with some unique features and great performance. I had big fun running on the trails out to Sand Mountain in the 1000 X. The handling in the whoops was awesome and the power to get up on top of the whoops was exhilarating.
Since that day at Little Sahara, I traveled to Montreal for the media introduction and learned a lot from the presentations and from riding on a variety of terrain. There were some really fast trails, a small rocky section, a gravel pit, and even some mud. Like all the rest of the editors, I was thrilled with how the Commanders performed. Not surprisingly, my favorite once again was the Commander 1000 X with the upgraded Fox 2.0 shocks, 12″ beadlock wheels, black plastic and rock sliders. Right out of the box, the X is setup for aggressive driving.
Then the waiting occurred for the media embargo to lift and then for a demo unit to arrive. A Can-Am Commander 1000 XT did arrive in late July just in time for me to bring it to DuneFest 2010 up in Winchester Bay .
I was able to get some paddle tires from Fullerton Sand Sports to try out while at DuneFest and was really happy I did. After riding at Little Sahara with stock tires, I wanted to see what the Commander could do with a nice set of paddles. I was a little dubious of the 26″ STU Sand Blasters, but they did look proportionate on the Commander.
Overall, I was very pleased with the Commander 1000 in the Oregon Dunes. The big v-twin power never let me down. You could point and shoot at anything in Winchester Bay and just go without worrying. The paddle tires really looked great on the car and I liked the feel of the bigger tires under me. I did feel that I lost a bit of low end with all the paddles I had, but I knew that the future would hold more power via a Muzzys exhaust so that would help.
The one thing I did not like so much in the dunes was the stock XT shocks. This is not much of a surprise since I can over drive most OEM shocks in the dunes, but I was a bit spoiled when I drove the 1000 X with adjustable Fox 2.0 shocks at Little Sahara. The XT shocks are very comfortable for cruising, but like all other OEM shocks, they are setup too soft for aggressive driving.
After DuneFest, the next time I had the Commander out was to pre-run for the Hawthorne desert race. The XT was super comfortable and the power was great through the deep silt and sand. We did have one issue with a sidewall flat in a rocky section. The XT tires and wheels are 14″ which doesn't leave a lot of sidewall for fast desert rides. Not surprising that we got a flat in one of the Bighorn 2.0′s, but I was a little disappointed. The 2.0′s are a nice tire for light duty applications, but I feel a normal Bighorn or a Pit Bull Rocker would be a better choice on a 12″ wheel.
From there, I had a quick opportunity to do a little rock crawling with my son on the Barrett Lake Jeep Trail. This trail is very close to the Rubicon Trail, and maybe a bit tougher. It was raining, so it made the rocks even tougher to get over. I had added a Factory UTV UHMW skid plate and a-arm guards, and it was a good thing I did because we spent some time sliding on our belly.
One accessory I did get to try out was the factory installed Warn winch on the XT. The clean installation behind the bumper and the factory installed switch on the dash made for quick work of the obstacle. But struggling to get over the rock before I broke out the winch did bring up an issue with the front differential. Can-Am has built a pretty sophisticated "locker" they call Visco-Lok. When this system detects one wheel spinning faster than its mate, it will progressively send more power to the other wheel. In most scenarios that works great. But when you are rock crawling, this delay can cause your whole car to move sideways while trying to scale a rock. Not a great scenario when slow, predictable behavior is needed.
Next up was a trip to Sand Mountain. For this trip, I had installed several aftermarket accessories to customize the Commander to my liking. These items include, Elka Stage 4 shocks, Muzzys dual exhaust with DigiTune, Fullerton Sand Sports paddle tires on OMF beadlock wheels, Baja Designs 10″ Stealth LED, PRP seats, Simpson harnesses, Factory UTV skid plates and harness bar and Axia Alloys mirrors.
Right from the start I was in awe. The transformation from a really nice UTV to "WOW!" was amazing. The Commander was climbing everything but the steep back side with ease. The extra power from the Muzzys exhaust was great and the fuel delivery was spot-on. The Elka stage 4 shocks made all the difference in the world. Nice ride in the chop, but firm over transitions and g-outs were handled without even coming close to bottoming out. The PRP seats were super comfortable and the Simpson harnesses gave me a little more sense of safety on those fast dune rides. I even had a chance to use the Stealth LED light during a night ride. The Commander high beam lights are pretty impressive by themselves, but you can never have too much light. The tight package of the Stealth LED fit right in the XT bumper and gave me just enough extra light to feel comfortable driving a bit faster. And I got to use my Axia Alloys mirrors quite a bit to make sure I did not leave the others too far in my dust….Hah!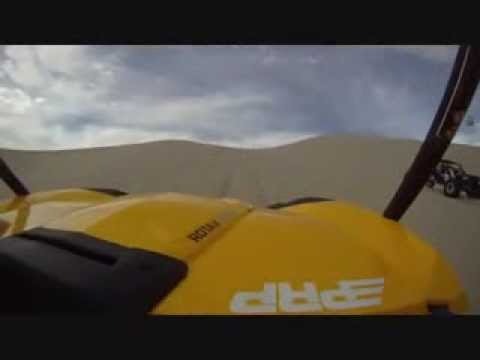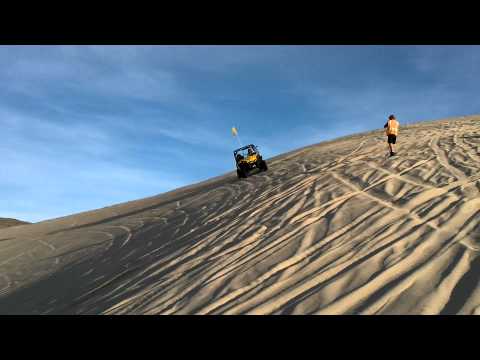 Now with all that being said, I simply love the Commander. If I was going to buy one and not do any or much modifications, I would definitely choose the 1000 X model. Beadlock wheels, Fox 2.0 shocks, love the black plastic and rock sliders are all must have features. But more than likely, I would go with the standard model and build it up. I have the XT model, and have done a few things on it that I really like.
Stage One Upgrades:
So far, I have bumped the power with a Muzzys dual exhaust, Elka Stage 4 stock replacement shocks, dune tires and beadlock wheels from Fullerton Sand Sports and OMF Performance, Seats from PRP, Harnesses from Simpson, Stealth LED light from Baja Designs, Mirrors from Axia Alloys, Skid plate and harness bar from Factory UTV, Seat belt sensor delete from Turnkey UTV and 26.5×14 Pit Bull Rockers to replace the Big Horn 2.0′s.
By Jon Crowley, UTVGuide.net
More Resources:
www.muzzys.com – Exhaust
www.prpseats.com – Suspension Seats
www.simpsonraceproducts.com – Harnesses
www.elkasuspension.com – Shocks
www.fullertonsandsports.com – Paddle Tires
www.omfperformance.com – Billet Center Beadlock Wheels
www.factoryutv.net – Sid plate and Harness bar
www.axiaalloys.com – Billet mirrors
www.bajadesigns.com – LED Bar
www.pitbulltires.com – Tires
www.turnkeyutv.com – Seat belt sensor delete
www.toddscustombillet.com – Long Travel Kit (stage two).