January 8th, 2010 at 12:39 am
Pit Bull Tire has busted into the UTV and ATV tire scene and much like their tread, they are leaving their mark!
Pit Bull has come out with a tire that is not only awesome looking, but very very durable. And trust me, I have one of the most powerful UTV's on the planet and I've been doing my best to try and spin these relatively soft, but gnarly looking lugs right off! This is where their ruggedness comes in as I have yet to do so and they show no signs of that happening anytime soon.
The specific Pit Bull Tire that I tested was the new 25.5" Growler X.O.R. on a 12" rim. These tires have a 6 ply rating, siping, multi-varied tread blocks and over-the-shoulder lugs that use Pit Bull's Fang Technology. That's some serious technology packed into one tire, so lets see what its got!
It's been pretty snowy here as of late and what better of a time to test out what is supposedly the best snow tire on the market, less spikes of course. My testing ground is about a 25 mile long gravel road with a mix of crunchy powder, ice, hard pack, dirt, slush, and mud depending on where the sun decides to grace the ground with its warmth. So basically, UTV riding heaven!
My test UTV is a Polaris RZR with a +8 suspension kit, built motor and a turbo force feeding it cold thin air. Sounds like the perfect candidate for a narrow dirt road packed with snow and ice at every turn and climbing from about 7,000ft to about 9,000ft elevation with no guardrails…right? Absolutely!
I ride this road often and I have put probably a couple hundred miles on it with my stock Maxxis Bighorns. So, I've got a pretty good basis to go off of at this point. I bolt on my new wheels and tires and without hesitation I head out for 443!
I decide that even though the road is pretty much hard pack with a layer of ice I'm going to see what these Pit Bull Growlers have got and run it in 2WD! Risky I know, but I've got faith in my driving skills and my RZR's setup. I start out a little slow, maybe hitting 30 mph through a few turns. Hmmm feels pretty good. The tires are real predictable and feel solid.  So, time for a little more throttle…WOW! I'm driving on ice at about 40 mph and I can hold a drift all the way through the turn! Turn into it a little, ease off the throttle and it straightens right out! Toward the top of the mountain I was literally hooting and hollering out loud as the rush of the driving experience was exhilarating!
I can tell you that I was easily doing 10 mph faster in the turns and 15+ mph faster in the straights than I do with the stock Bighorns! I've had a blast with the Bighorn's and I thought that a tire couldn't be better, until now! The Growler's are a SERIOUS dirt/hard pack/snow tire that gives you so much traction you feel like you're a real rally car driver! They give you the confidence, feedback and traction to push it to the limits and then some!
But don't just take my word for it, watch it all happen here!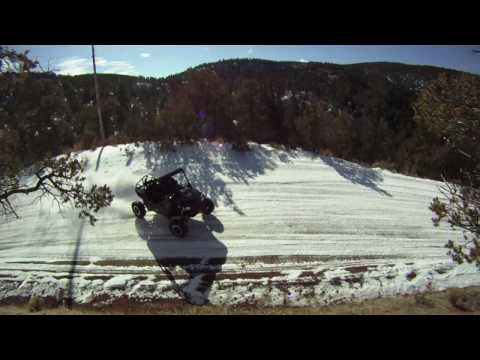 Feel free to discuss these tires with Pit Bull Tires or other owners of these fine tires at any one of our forums: RZRForums.net – RhinoForums.net – TeryxForums.net